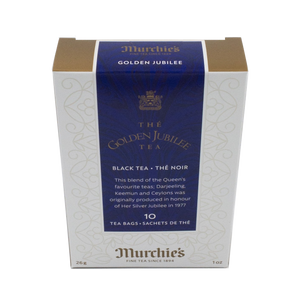 Description
Murchie's The Golden Jubilee Tea
Black Tea - The Noir.  This blend of the Queen's favourite teas; Darjeeling, Keemun and Ceylons was originally produced in honour of Her Silver Jubilee in 1977.
Pack includes 10 tea bags.
Proudly Canadian Since 1894.  For over 120 years Murchie's has been importing and blending the finest quality teas from select gardens around the world.  Their expertise in the art of tea blending is a Murchie's tradition, passed down for generations.